Featured

Project Looking for a partner...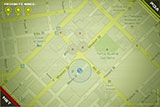 We're currently looking for an iPhone shop to join us in releasing a groundbreaking new location-based game. The application itself is already built out, but our previous partners had to withdraw and we're looking to bring in a new team with development and marketing expertise on the iOS platform.
Think your shop's got the chops? Learn More »
Totally rockstar — hands-down the best developers I've ever worked with!

Kyle Kothe, Artistic Director at Whale Shark Media
Extremely reliable, detail-oriented, and thorough… doesn't leave any loose ends behind.

Anya Nikulina, Product Lead at Your Net Works, Inc.